0 Santa Rosa Laguna House & Lot by DDC Land For Sale.
For price list, model house, floor plans, payment terms, chat live with an agent 24x7.
0 Featured Properties Found
0 Additional Properties Found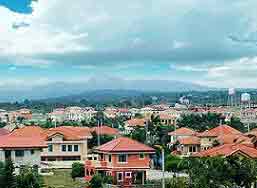 Santa Rosa
Santa Rosa is a city in the province of Laguna, Philippines. The city, predominantly a suburban residential community of Metro Manila, lies 38 kilometres (24 mi) south of Manila via the South Luzon Expressway. Santa Rosa is also the exit point along the expressway to go to Tagaytay.
Santa Rosa is the premier city and hub of South Luzon. It is the Makati of the South in terms of economic activity. Major commercial banks in the Philippines operate in the city. At this time, there are 68 banking institutions that offers banking services to businesses and residents. Most of these are concentrated in Barangay Balibago, Don Jose, Macabling, Pulong Santa Cruz, and Tagapo.
Dubbed as the "Motor City of the Philippines" or "Detroit City of the Philippines", Santa Rosa is host to multinational automotive giants Nissan Motors Co., Ltd., Toyota Motor Corporation, Honda Motor Co., Ltd., and Mitsubishi – all contributing 95 percent of the country's automotive production.
Santa Rosa is also looking to be the next hub for the BPO industry. It is currently ranked 82nd in the world for its competitiveness in the Information Technology and Business Process Outsourcing services (IT-BPO) by the leading strategic advisory firm, THOLONS. BPO companies present in Santa Rosa are Convergys, KGB, Teletech, IBM and Concentrix.